Find out more!

Experience Ainu Culture
through Paper Craft
At this web page,
you can download a variety of paper craft projects that let you learn as a family
while enjoying Ainu culture.
You can enjoy Ainu culture at home before you visit Upopoy.
HOW TO ENJOY PAPER CRAFT
What you need to have on hand:
A home-use printer, paper, scissors, glue, etc.
1

Download a set of cutout sheets.

2

Print them out on a home printer.

3

Assemble using scissors and glue.

Done!
LANGUAGE
Lots of entertaining pictures!
You can get to know Ainu words while having fun.
These are games using illustrated cards that have words in Ainu and Japanese.
Use these to learn the names of living creatures, words for items used in daily life, and about the weather.
With these cards, you might just start to master Ainu!
New! Karuta Cards

Experience Ainu life as you enjoy playing karuta games. You can learn using 56 kinds of Ainu word cards in such genres as living things and culture. Many of the words are short, so try saying them out loud. Be sure to use the Ainu language you learn when you talk.

Creature Cards

These cards depict living creatures that have interesting names that you'd never guess from the Japanese words for them. Learn them all, then quiz your family and friends! You can use them to play concentration and other games – it's entirely up to you.

Match-up Cards

These charming cards present Ainu-language antonyms in an easily understandable way. With them, you can learn everyday words that mean things like "laugh," "cry," "tasty," and "bad-tasting." As you play, you might even start speaking Ainu before you know it!
Upopoy staff members were in charge of drawing the illustrations on the Creature Cards, Match-Up Cards, and Weather Cards.
Irankarapte, everybody! We run Upopoy's kid program and language program!
Have you played the card games yet? We imagine you might wonder about things like how to pronounce the words. That's when you should visit Upopoy! We look forward to seeing to and answering your questions!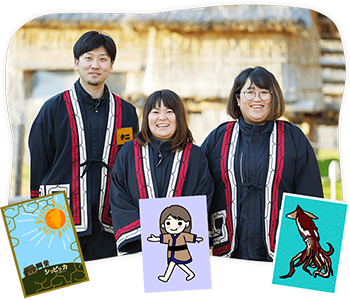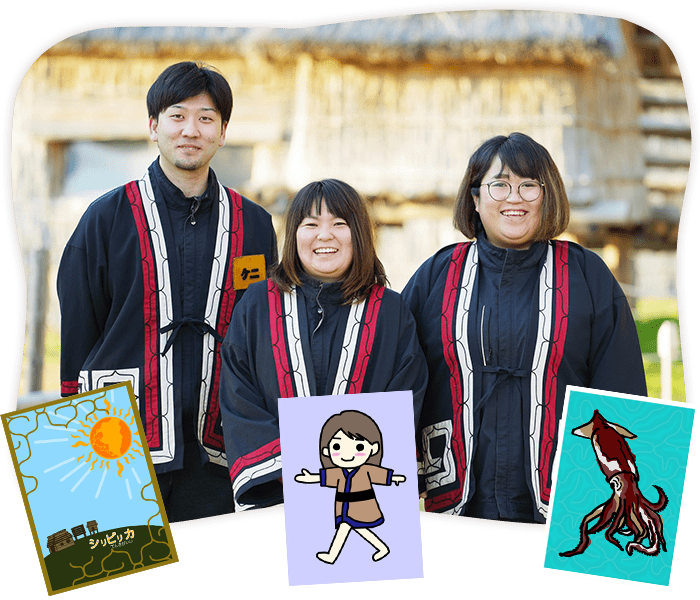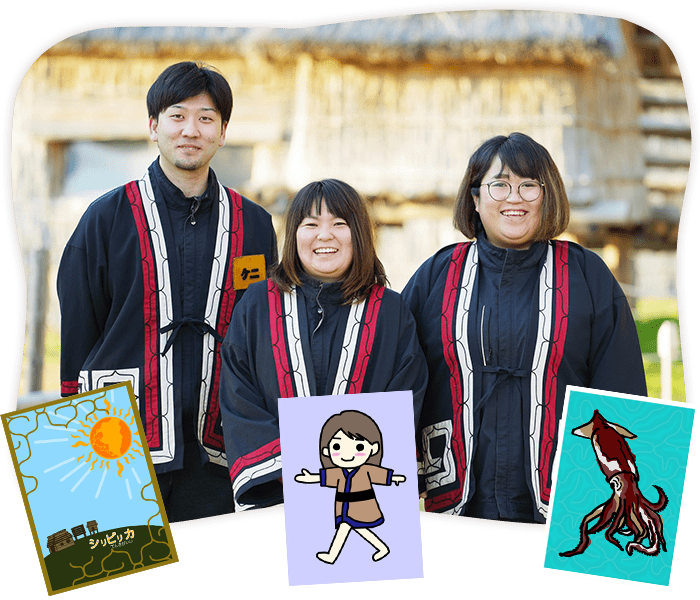 TureppoN
She is a turep (Giant Woodland Lily) girl.
She is Upopoy's mascot character.
Turep is a word that refers to the below-ground bulb of the giant woodland lily, where nutrients are stored.
The highly prized turep is used as a preserved food and as medicine.

New! TureppoN

TureppoN's adorable round form has been re-created in 3D. Decorate your home with a palm-sized TureppoN!
ANIMALS
Make animals with deep connections to the Ainu.
The Ainu believe that many things have a resident spirit-deity,and among these the ones with great influence are called "kamuy."
Kamuy ordinarily live in the kamuy realm, and take the same form as humans.
When they visit the human world, kamuy take the form of animals, plants or natural phenomena.
Blakiston's Fish Owl

Blakiston's fish owl, known by such names as kotan-kor-kamuy and kamuy-cikap, is a special kamuy who protects villages. The actual owl is a large bird with a wingspan of close to two meters, but here it has been reduced to a size that you can place on the palm of your hand. Why not display this spirit-deity of protection in your own home?

Animal Blocks

This is a charming paper toy that lets you have fun stacking animals. You can make five kinds of animals from Hokkaido: salmon, crow, fox, Yezo sika deer, and whale. For even more fun, make a whole bunch of these!

Brown Bear

The bear has names such as kimun-kamuy, and is a kamuy whose flesh and pelt are prized. This paper craft project is for making an adorable bear cub. When young, bears are known by names that include heper. The many different names for bears shows just how deep their connection is to the Ainu.
DAILY LIFE AND BUILDINGS
Experience day-to-day Ainu life!
These paper craft projects include a diorama of a cise house where families live,
a kitchen set for play-making ohaw (soup) with your favorite ingredients, and other items that convey a feel for Ainu life.
New! Ainu clothing

The names of articles of Aynu clothing vary depending on materials, patterns, and other aspects.Nowadays clothing with Aynu patterns is worn for ceremonies and other important events.This paper craft project lets you play using brightly colored clothing in combination with accessories and other ornamental articles for clothing.Try to imagine what daily life for Ainu people is like.

Cise Diorama

In the Ainu language, the houses in which Ainu live are called "cise." The materials used for cise roofs and walls have regional variations. They are selected according to the local environment, and include different kinds of reeds as well as bamboo and tree bark. As you put this together, you'll find out what the dwellings look like inside.

Play Kitchen

This simple paper craft project suggested for small children lets them play at making an Ainu soup called ohaw. Select your favorite ingredients, cut them up, simmer them over a fire to make an ohaw like none other! This is a fun project for parents and children to do together.

Headband

This is a matanpus (headband) decorated with an Ainu design that you can actually wear. You can download a matanpus that you can color yourself and another with a pre-printed pattern. Make it, then put it on and take pictures!
Note: Printing out this paper craft project on regular paper is recommended.

Crossbow Trap

An amappo (crossbow trap) is an animal-hunting device that shoots an arrow automatically. It is set up on trails used by brown bears, Yezo deer, and other prey, and loaded with a poison-tipped arrow. This paper craft project lets you learn about the design of the construction used to shoot the arrow.
Note: This project uses a rubber bands and twine.
FREQUENTLY ASKED QUESTIONS
■What kind of paper is recommended?
For A4-size paper craft projects, using matte photo paper, which is slightly thicker than regular paper, makes crafting work easier and yields attractive results.

■I'm unable to download a project.
Please try reloading the page or using a different browser.

■I succeeded in downloading, but I can't open the file.
To preview the files, we recommend using Adobe Acrobat Reader.

■The file doesn't print out correctly.
Please check the manufacturer's settings for the printer you're using.

■I don't understand how to assemble the project/Assembly does not proceed smoothly.
The method of assembly is described in the Assembly Guide. Please put the project together by following the instructions step by step.
If you check the locations of where to make folds and where to apply glue and ensure no deviation occurs, you'll be able to assemble the project smoothly.
These paper craft projects are intended to be used for personal enjoyment.
Unauthorized duplication, editing, sale, and distribution of download data, printed matter, and the like are prohibited.
The copyright for a created paper craft piece belongs to the creator.

Planned by Canon Marketing Japan